Drama
You cannot add "BLACK NARCISSUS" to the cart because the product is out of stock.
Showing 1–15 of 202 results
Original vintage drama film movie posters, inc. KITCHEN SINK DRAMA, ZULU, BRIDGE OVER THE RIVER KWAI, LAWRENCE OF ARABIA, MARILYN MONROE, HOLLYWOOD CLASSICS, HUMPHREY BOGARDE, CASABLANCA, GET CARTER, MICHAEL CAINE, ALFIE.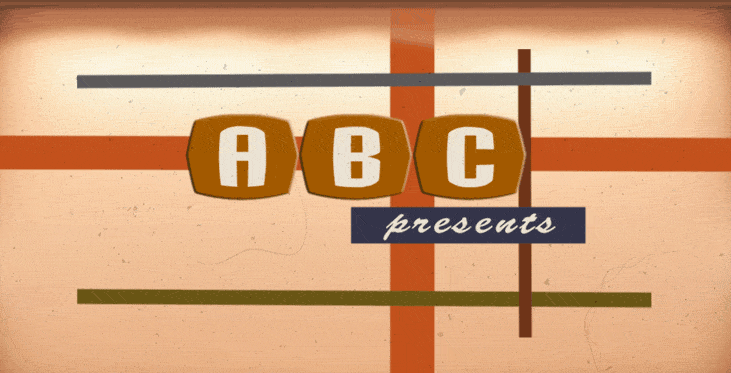 A DIVIDED HEART (1954)

Company

Stars

Alexander Knox, Armin Dahlen, Cornell Borchers, Yvonne Mitchell

Director

Producer

Artist

Size

Condition

During WWII, a German woman, Inga, goes missing and is presumed dead. Her infant son is placed in an orphanage where he's adopted by a childless couple, but their world is torn apart when the mother reappears years later demanding her son back. Original release quad in excellent condition.

Grade
CLICK TO ENLARGE
Price
SOLD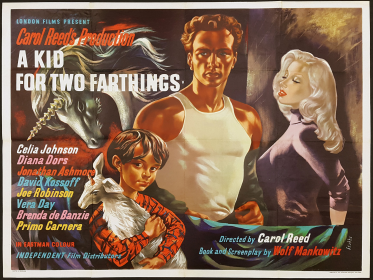 A KID FOR TWO FARTHINGS (1955)
Company

Stars

Celia Johnson, David Kossoff, Diana Dors, Joe Robinson, Jonathan Ashmore, Vera Day

Director

Producer

Artist

Size

Condition

Joe, a 6 year old boy, lives in an impoverished part of London above a tailors shop with his mother and goes in search of a unicorn when the tailor tells him it'll grant any wishes. He finds what he thinks is a unicorn (in fact a small goat with a malformed horn) and his efforts to make dreams come true exemplify the power of hope amidst hardship. Excellent condition.

Grade
CLICK TO ENLARGE
Price
SOLD
A KIND OF LOVING (1962)
Company

Stars

Director

Producer

Artist

Unknown (Know who did this? Please let us know)

Size

Condition

It's grim up't north in this Kitchen-sink drama, which sees Manchester draftsman Vic Brown (Bates) and secretary Ingrid Rothwell (Ritchie) forced into an unhappy marriage and living with her domineering mother after Ingrid becomes pregnant. First release Australian daybill in very good condition.

Grade
CLICK TO ENLARGE
WATCH THE TRAILER
Price
£125.00
CLICK TO ENLARGE
Price
£350.00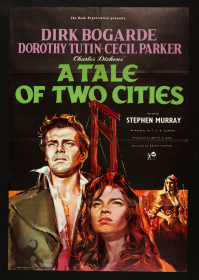 A TALE OF TWO CITIES (1958)
Company

Stars

Director

Producer

Artist

Size

Condition

Lavish film version of the Charles Dickens novel set in the turbulent period of the French revolution. Superb moody artwork and apart from slight centre cross-fold wear, this UK one sheet is in excellent original condition.

Grade
CLICK TO ENLARGE
WATCH THE TRAILER
Price
SOLD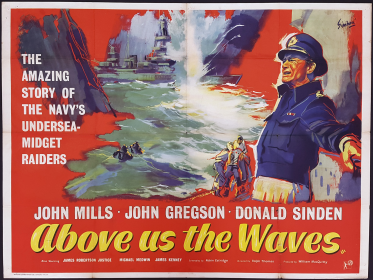 ABOVE US THE WAVES (1955)
Company

Stars

Donald Sinden, James Robertson Justice, John Gregson, John Mills, Michael Medwin

Director

Producer

Artist

Size

Condition

British midget submarines mount a daring attack against a Nazi destroyer off the Norwegian coast during World War II. With spectacular artwork and a great portrait of John Mills. Some ageing, pinholes and conservation repairs verso, otherwise a good example of this very rare first release quad.

Grade
CLICK TO ENLARGE
WATCH THE TRAILER
Price
SOLD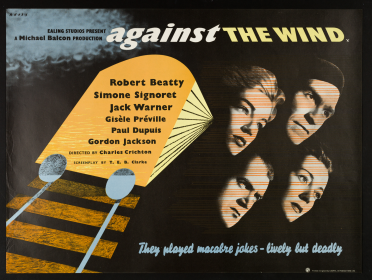 AGAINST THE WIND (1948)
Company

Stars

Director

Producer

Artist

Size

Condition

A gritty World War II sabotage/resistance drama set in occupied Belgium, with Signoret in her first English-language film role. This first release quad is in superb unused condition and has wonderfully atmospheric artwork by Reiss. A stunning graphic design.

Grade
CLICK TO ENLARGE
Price
£1,650.00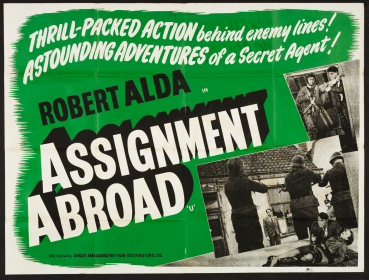 ASSIGNMENT ABROAD (1955)
Company

Stars

Director

Producer

Artist

Unknown (Know who did this? Please let us know)

Size

Condition

Feature film derived from edited episodes of the television series "Secret File, U.S.A." about an American intelligence agent who goes on missions deep behind enemy lines to gather information about threats to American security. Some ageing, but overall in good condition.

Grade
CLICK TO ENLARGE
Price
£125.00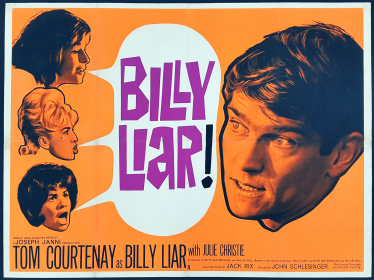 BILLY LIAR! (1963)
Company

Stars

Julie Christie, Mona Washbourne, Tom Courtenay, Wilfred Pickles

Director

Producer

Artist

Size

Condition

New Wave comedy-drama about Billy Fisher (Courtenay) who, bored by his job as a lowly clerk in an undertakers, indulges in fantasies that will take him away from his dreary life. Some ageing, slight tape shadow on the borders and fold wear typical of Dayglo posters, otherwise this very scarce quad displays well with strong graphics.

Grade
CLICK TO ENLARGE
WATCH THE TRAILER
Price
SOLD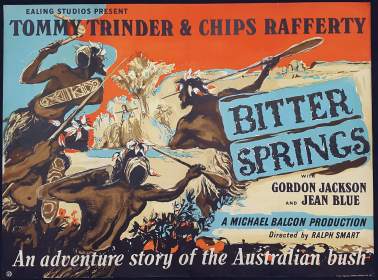 BITTER SPRINGS (1950)
Company

Stars

Charles Tingwell, Chips Rafferty, Gordon Jackson, Tommy Trinder

Director

Producer

Artist

Size

Condition

An Australian pioneer family leases a piece of land in the outback in 1900 from the Australian government and hires two inexperienced British men as drovers, but problems with local Aboriginal people arise over the ownership of a waterhole. Very rare original first release quad in excellent condition.

Grade
CLICK TO ENLARGE
Price
SOLD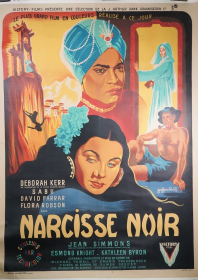 BLACK NARCISSUS (1947)
Company

Stars

David Farrar, Deborah Kerr, Flora Robson, Jean Simmons, Kathleen Byron, Sabu

Director

Producer

Artist

Size

Condition

Powell & Pressburger's haunting influential psycho-drama, exquisitely shot by Jack Cardiff, explores the tensions and sexual frustrations of a convent of nuns in the Himalayas. It was nominated for and won a raft of major international awards. Linen backed, it has slight moisture cockling lower left side, otherwise this very rare poster presents to superb effect.

Grade