Comedy
You cannot add "A SWINGIN' SUMMER" to the cart because the product is out of stock.
Showing 1–15 of 102 results
Original vintage comedy film movie posters, inc. CARRY ON FILMS, DOCTOR FILMS,EALING COMEDIES such as LAVENDER HILL MOB, TITFIELD THUNDERBOLT, KIND HEARTS & CORONETS, PASSPORT TO PIMLICO and many other rare posters.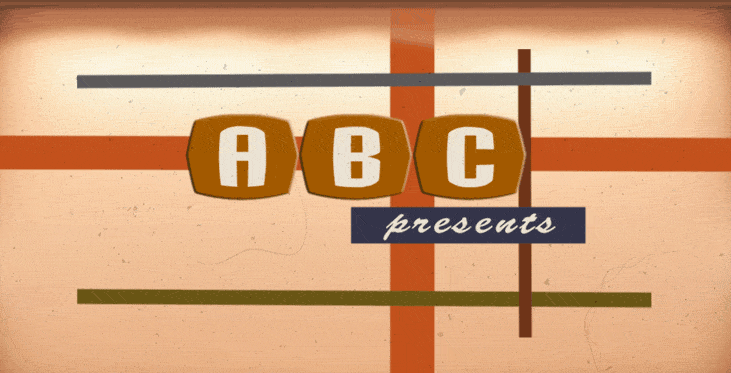 A DAY AT THE RACES (1937)

Company

Stars

Director

Producer

Artist

Size

Condition

The 7th film starring the Marx Brothers and one of the major hits. This poster is extremely rare (this is the only known copy) for this classic comedy caper. Prior to backing it had various areas of wear, slight loss in the borders and fold separation, but this has all been addressed during restoration and the poster presents beautifully.

Grade
CLICK TO ENLARGE
Price
£1,250.00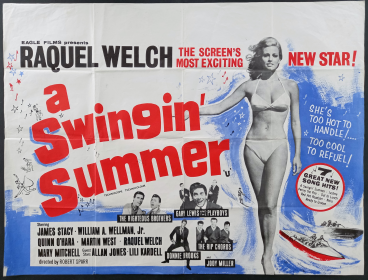 A SWINGIN' SUMMER (1965)
Company

Stars

Director

Producer

Artist

Unknown (Know who did this? Please let us know)

Size

Condition

A group of high school friends become concert promoters at a dance pavilion that is in danger of closing and suceed in pulling together a roster of pop acts. The film is notable for being Raquel Welch's first starring role. Pinholes, slight misfolds and handling, light bleed from a number written verso, otherwise this very scarce poster displays well.

Grade
CLICK TO ENLARGE
Price
SOLD

BALL OF FIRE (1941)
Company

Stars

Director

Producer

Artist

Unknown (Know who did this? Please let us know)

Size

Condition

A plethora of Hollywood greats behind this screwball comedy about a professor (Cooper) researching slang who becomes enamoured by a bawdy nightclub singer (Stanwyck). This is a very rare UK door panel. Any wartime British paper is like hens teeth due to the paper drives. Slight ageing, otherwise in very good overall condition with good colour.

Grade
CLICK TO ENLARGE
Price
SOLD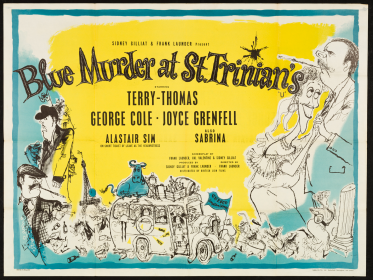 BLUE MURDER AT ST. TRINIAN'S (1957)
CLICK TO ENLARGE
Price
SOLD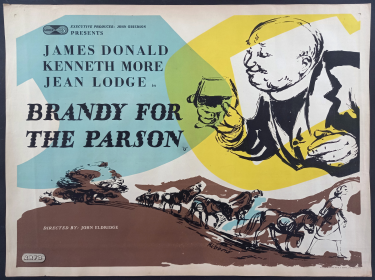 BRANDY FOR THE PARSON (1952)
Company

Stars

Director

Producer

Artist

Size

Condition

A comedy caper from Group 3, the successor to the more famous Ealing Studios, with much of the same backroom team. A young couple on a boating holiday find themselves unwittingly caught up in a smuggling racket. Some slight ageing, otherwise this scarce original poster is in overall very good condition.

Grade
CLICK TO ENLARGE
Price
SOLD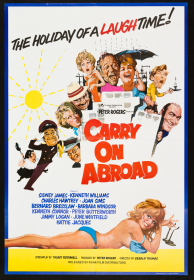 CARRY ON ABROAD (1972)
CLICK TO ENLARGE
WATCH THE TRAILER
Price
SOLD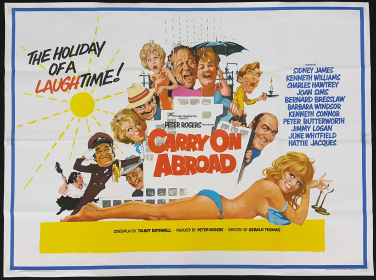 CARRY ON ABROAD (1972)
CLICK TO ENLARGE
WATCH THE TRAILER
Price
SOLD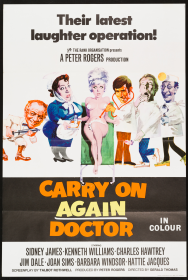 CARRY ON AGAIN DOCTOR (1969)
Company

Stars

Barbara Windsor, Charles Hawtrey, Hattie Jacques, Joan Sims, Kenneth Connor, Kenneth Williams, Sid James

Director

Producer

Artist

Size

Condition

The Carry On team are on top form in the 18th of the series, which sees Dr Nooky (Jim Dale) discover a weight loss serum when stranded on a tropical island with Gladstone Screwer (James), to return to England and set up a rival private clinic in competition to Dr Carver (Williams). Excellent original condition.

Grade
CLICK TO ENLARGE
WATCH THE TRAILER
Price
£195.00
CARRY ON AT YOUR CONVENIENCE (1971)
CLICK TO ENLARGE
WATCH THE TRAILER
Price
SOLD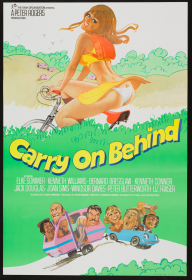 CARRY ON BEHIND (1975)
Company

Stars

Bernard Bresslaw, Elke Sommer, Joan Sims, Kenneth Connor, Kenneth Williams, Windsor Davies

Director

Producer

Artist

Size

Condition

The 27th in the series, harking back to Carry on Camping, sees the team on an archaeological dig on a camp site. The script makes the most of Sommer's foreign accent to get in as many innuendos as possible, the most famous being the "I'm going about the camp looking for scrubbers..." speech. Excellent rolled condition.

Grade
CLICK TO ENLARGE
WATCH THE TRAILER
Price
SOLD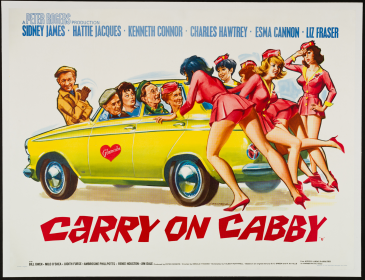 CARRY ON CABBY (1963)
CLICK TO ENLARGE
WATCH THE TRAILER
Price
SOLD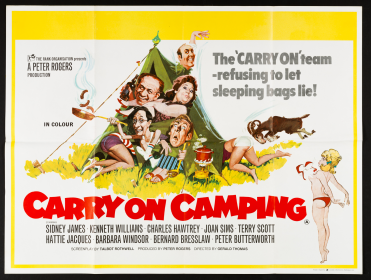 CARRY ON CAMPING (1969)
Company

Stars

Barbara Windsor, Charles Hawtrey, Hattie Jacques, Joan Sims, Kenneth Williams, Sid James

Director

Producer

Artist

Size

Condition

The 17th in the series sees the gang off to the country on their hols with Nov doubling for the summer! They even had to paint the mud green to look like grass. The film contains the iconic "let's see those chests really come out" scene, which is also illustrated on this rare country of origin quad. Very good original condition.

Grade
CLICK TO ENLARGE
WATCH THE TRAILER
Price
SOLD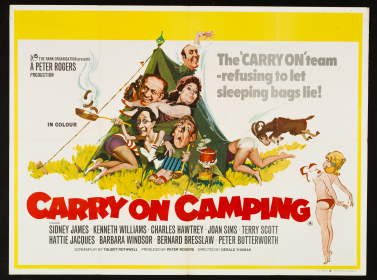 CARRY ON CAMPING (1969)
Company

Stars

Barbara Windsor, Charles Hawtrey, Hattie Jacques, Joan Sims, Kenneth Williams, Sid James

Director

Producer

Artist

Size

Condition

The 17th in the series sees the gang off to the country on their hols with Nov doubling for the summer! They even had to paint the mud green to look like grass. The film contains the iconic "let's see those chests really come out" scene, which is also illustrated on the quad. Pinholes to corners otherwise displays well.

Grade
CLICK TO ENLARGE
WATCH THE TRAILER
Price
SOLD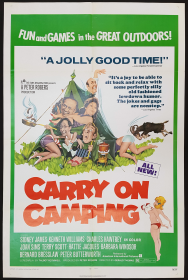 CARRY ON CAMPING (1969)
Company

Stars

Barbara Windsor, Charles Hawtrey, Hattie Jacques, Joan Sims, Kenneth Williams, Sid James

Director

Producer

Artist

Size

Condition

The 17th in the series sees the gang off to the country on their hols with Nov doubling for the summer! They even had to paint the mud green to look like grass. The film contains the iconic "let's see those chests really come out" scene, which is also illustrated on the poster. Light fold wear and two pinholes upper centre otherwise excellent condition.

Grade
CLICK TO ENLARGE
WATCH THE TRAILER
Price
SOLD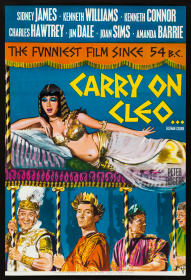 CARRY ON CLEO (1964)
Company

Stars

Amanda Barrie, Charles Hawtrey, Joan Sims, Kenneth Connor, Kenneth Williams, Sid James

Director

Producer

Artist

Size

Condition

"Infamy, infamy... they've all got it in for me!" In fact, that's just what happened to Chantrell's original quad design, which aped the Taylor/Burton blockbuster, when C20th Fox successfully sued and the original quad was quickly withdrawn, pulped and replaced with a rapidly assembled replacement. This rare 1 sheet shows Chantrell's design, making it highly collectible.

Grade
CLICK TO ENLARGE
WATCH THE TRAILER
Price
SOLD